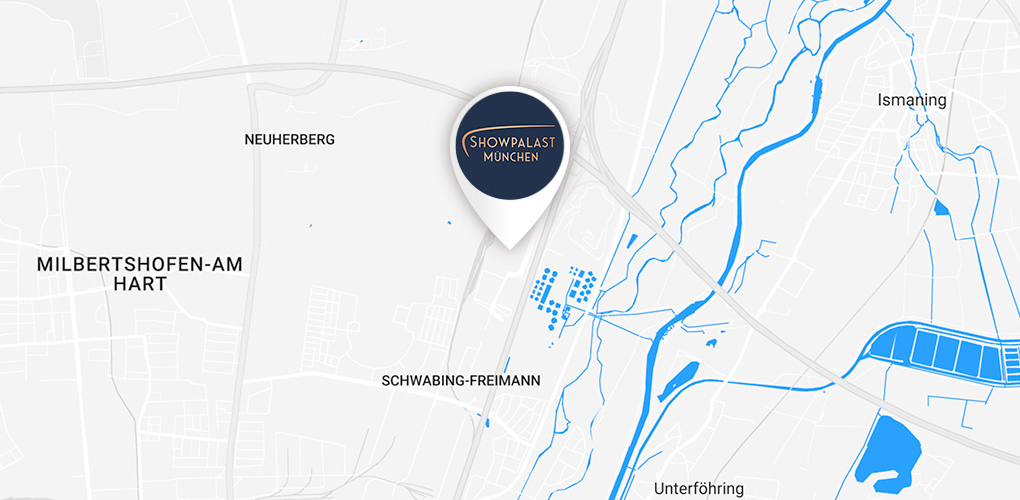 Directions
Arrival by car

Coming from the west on the A8 Stuttgart - Munich motorway, take the A99 motorway towards Salzburg at the München-Eschenried motorway junction. At the München-Nord junction, change to the A9 motorway in the direction of München and leave the motorway at the Fröttmaning-Süd junction (AS73).

If you are coming from the north on the A9 Nuremberg - Munich motorway, leave the motorway at the München-Fröttmaning-Süd (AS73) junction.

Coming from the south and east via the A 99 motorway, change to the A 9 motorway in the direction of Munich at the München-Nord motorway junction and leave the motorway at the Fröttmaning-Süd (AS73) junction.

If you are coming from Munich city centre, take the A9 motorway Munich - Nuremberg to the junction München-Fröttmaning-Süd (AS73).

Parking spaces

Directly at SHOWPALAST MÜNCHEN there are 275 own parking spaces available for a fee. The parking fee for these designated parking spaces is €8 per day. Show guests can also pay the parking fee at the cloakroom.

You can reach the SHOWPALAST MÜNCHEN guest car park by following the signs from the Fröttmaning-Süd exit. The entrance to the car park is on Maria-Goeppert-Mayer-Straße.
There are also disabled parking spaces available.

Other car parks near SHOWPALAST MÜNCHEN

P+R Fröttmaning multi-storey car park
If our own parking spaces at SHOWPALAST MÜNCHEN are full, our guests can use the public multi-storey car park P+R Fröttmaning. It is located at Werner-Heisenberg-Allee 21, directly opposite the main entrance. The car park is open Mon-Sun throughout the day.

Parking rates P+R Fröttmaning
Price: 10,00 € / day
P+R customer: 1,00 € / day *
Bus parking
Parking spaces for buses are available at the Fröttmaning bus station. It is located at Werner-Heisenberg-Allee 21, directly opposite the main entrance.

Parking rates Fröttmaning bus station
Bus parking incl. boarding and alighting: € 15.00
The rules of use of the bus station apply. In case of full occupancy, buses are requested to use the parking spaces at the Euro-Industrie Park.

*Guests who wish to combine their visit to SHOWPALAST MUNICH with a stroll through the city and travel from the P+R car park to the city on the same day by public transport will receive a special rate of € 1.00 / day in the car park (public transport tickets must be presented at the exit during checks, short-haul ticket will not be counted). The parking conditions of the P+R car park apply.
(Status June 2017 - subject to change)
Arrival by public transport

Travel comfortably to SHOWPALAST MÜNCHEN by public transport.
Within a few minutes you can reach the Fröttmaning station from the centre of Munich by underground line U6 (direction Garching-Hochbrück), which is within walking distance of the main entrance. This entrance is also covered throughout.

Use exit C - Werner-Heisenberg-Allee.

Arrival by bike

SHOWPALAST MUNICH is also easy to reach by bike. There is a family-friendly cycle path of about 10 km from Munich city centre to SHOWPALAST MÜNCHEN in Fröttmaning. The route is well signposted with a football symbol (Allianz Arena) and is even illuminated in the evening.

There are 375 parking spaces for bicycles directly in front of our own car park in Maria-Goeppert-Mayer-Straße.